Kickstarter Marketing – Lachlan Rowston and Raphael Freedman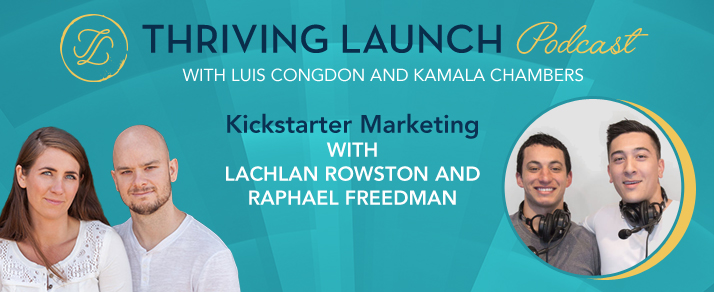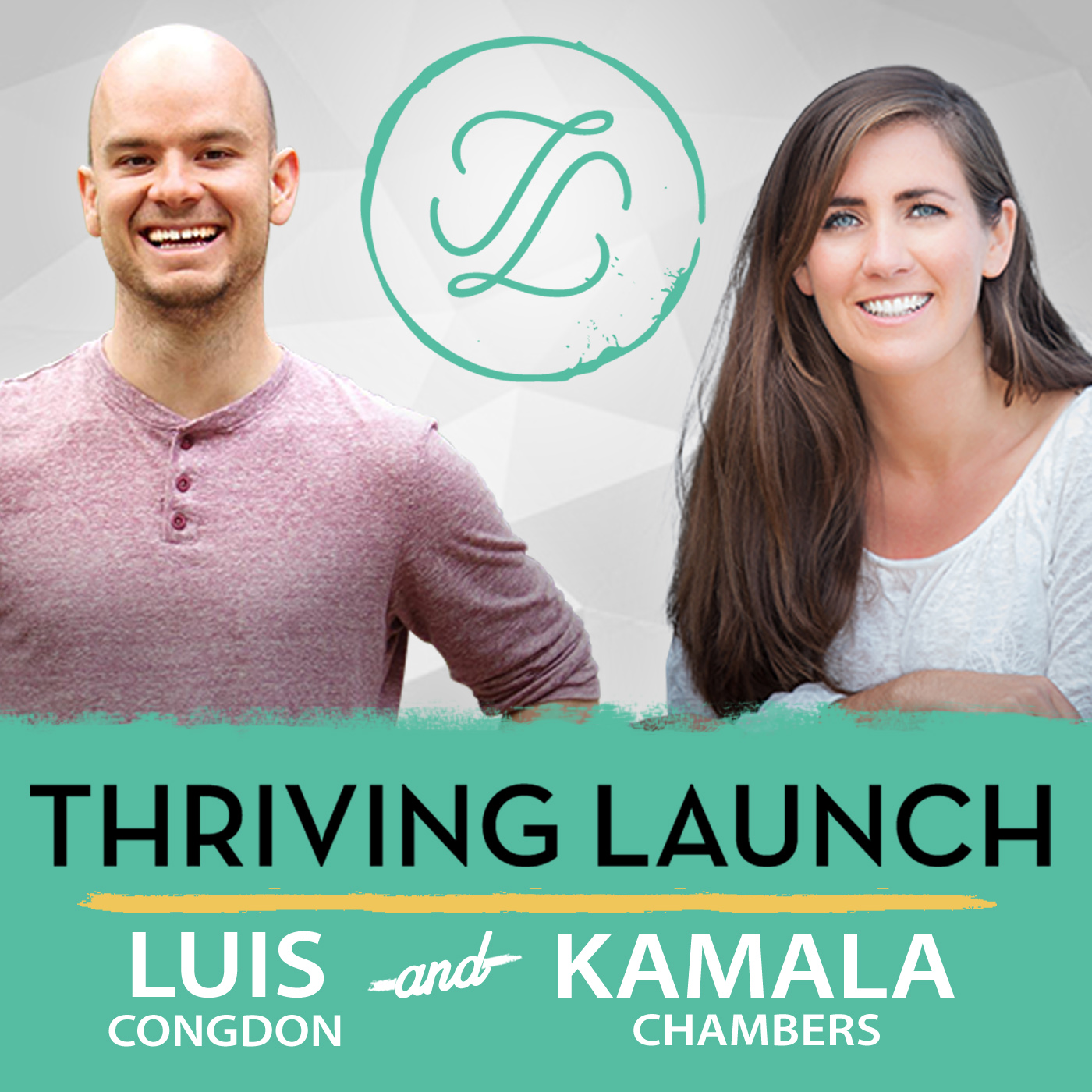 kickstarter marketing

SUMMARY
---
Kickstarter Marketing helps determine if the market wants your product before you even create it.
In this episode with Lach and Raph, they're going to talk about how they were able to launch a Kickstarter and what it took them to make it successful.
Most people would think that the work is done once the campaign launches. In fact, the work is only starting.

KEY TAKEAWAYS
---

Launching a kickstarter means having people pay for your product before it exists.

The work is only starting once the campaign launches.

Do your best executing the plans you set out to do.

Make your audience feel like they're part of the entire process of building the product.

Build a specific mailing list for each product.

Improve your product based on your audience's feedback.

With a Kickstarter, you can see if the market wants your product.

Offer free shipping at the start.

Before you test the waters, do your research to inform yourself as much as you can.

TRANSCRIPTION: KICKSTARTER MARKETING – LACHLAN ROWSTON AND RAPHAEL FREEDMAN
---

Kamala Chambers
This episode is all about Kickstarter marketing campaigns. If you're thinking about putting together a Kickstarter campaign, make sure you listen to this episode.
Lach and Raph host one of Australia's top three fitness and nutrition podcast, and they are recent authors.

Luis Congdon
All right, Thriving Launchers, we are ready! Are you guys ready to launch?

Lachlan Rowston

We're ready!

Raphael Freedman

We're ready.

Luis Congdon
You're doing a Kickstarter marketing. You guys have done a lot of things in the arena of sports and helping people level up. You have done a fantastic job getting the word out there
Creating something that's unique and now, doing this Kickstarter, it's fascinating for me to talk to you. You're halfway through it right now.
I'm curious, what are some of the lessons that you guys have learned on this journey?

Raphael Freedman

I'm Raph, and yeah, it's been interesting.
Kickstarter Marketing Launch

Raphael Freedman

Where we are at, at the moment is just over halfway. We got 16 days to go on our Kickstarter, and we've raised $16,000 roughly, and the goal is to get $20,000 to pay for the printing of the book.
It has been interesting I think so far, launching the Kickstart. It's something that you have no idea because you never sold one of the products before like how many you're going to sell and all that sort of stuff.
I'm happy that we did do it as a kickstart and didn't try fund the whole thing ourselves. It's because it's an excellent, perfect concept when you go, and you got people to pay for the book before it exists rather than just asking them, "Hey, would you buy a book?" Because it's very different sometimes, the way you might expect.
It's a perfect concept to have people buy your product before it exists rather than asking them if they would buy it.

Kamala Chambers
I'd love to hear some of the main things that you have learned running a Kickstarter and what you tell other people to do.

Lachlan Rowston

Lachlan, here.
Where Work Begins in Kickstarter Marketing

Lachlan Rowston

We learned that the work is not done once the campaign launches. In fact, the work is only starting, and there was so much going into it like the design of the book, going back and forth with people helping you distribute them for filming companies, dealing with Amazon, and all these different things.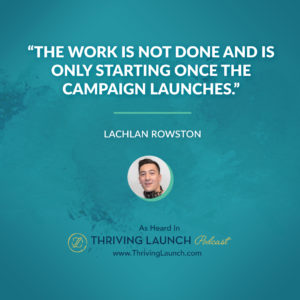 Lachlan Rowston

I thought the second that you hit launch, and you post it out there on social media, one post, it's done. It's going to hit the goal quickly. But, that's where it all begins.
It's been a hectic forty up, but we're about halfway, so it's been a hectic 25 days so far. Every single day, you want to try and keep working towards your marketing plans. We have this vast marketing plan written out with every touch point, all the different social media channels, paid, native, everything from reaching out to all the influencers, all the marketing, and all the podcasts that we could go on.
Kickstarter Marketing – Do Your Best

Lachlan Rowston

To be honest, I didn't think we'd get to all of them. I thought we'd easily hit our goal before we got halfway through the plan. But to be honest, I want to get all the way through the plan and do every single step possible. For me to say that "Regardless of what we did or what the outcome was, how we went, we did at least one thing," or "We executed as best as we could on the plan that we set out to do." And that's all you can do."

Kamala Chambers
Let's hear some of the steps in the Kickstarter marketing plan that worked the best.

Lachlan Rowston

I think number one was building hot for the product paramount.
Kickstarter Marketing – Make The Audience Feel They're Part Of What You're Creating

Lachlan Rowston

So we already have an audience with the podcast. We've been talking about this podcast and letting people on the inside of the journey for months, leading into it. Like step by step, what's going into the journal, and sneak previews of the content that's going into the journal. We're giving them updates on our show every single week, setting our emails like Instagram posts. It's making them feel part of the entire process of building the journal.
I could build some hype around it. When it launched, I think for most of the people who follow off, they weren't like, "Oh, what's this book that's come out?" It was like, "Oh yeah. I've been following and building this book for six months, and I feel a bit part of the journey."
So that when you do hit 'play,' you're not like spending the next forty days trying to get people interested in the book. You've been spending months on that, and hopefully, it's time that they can just take action in the next forty days.
Kickstarter Marketing – Build a Specific Mailing List For a Specific Product

Raphael Freedman

Yeah, building the mailing list was super important.
We built a specific mailing list of about 15 weeks to have especially for The Training Journal. We would know that these people are 100% ready for this exact product, so spamming them with content about the product and it's launch. And everything that we're doing with it is okay because they've given us permission rather than using our main mailing list, which they weren't necessarily subscribed to get just regular content or constant emails about this specific product.
Having a specific mailing list has been very powerful so we can constantly hit that with all the ideas that we have, the things you email, and stuff like that. That has been very effective.

Luis Congdon
What are some of the things that you guys have found that were helpful with emails, things that either got responses, buy-ins, or high-open rates? What were some of the most successful parts of emailing?
Kickstarter Marketing – Use A Subject Line That Sticks Out To Your Mailing List

Raphael Freedman

One email that I sent, which was a copy of someone else had the subject line "I screwed up." Anytime I open an email, I've subscribed to hundreds of lists, and it needs to stick out to me, and that one did.
And so, I thought I would copy, but it's just us saying, "We screwed up. We thought more of you would buy the product than we expected. A lot of you click through and opened, and had a look, but didn't purchase, so we feel like we screwed up. We didn't get the pricing right. The shipping was too expensive. Did we not have the right offer or reward?"
Also, it's saying, "Look, we appreciate your support. We're sorry that we screwed up. How can we make it better? Give us some feedback." They gave us some feedback, and then we're able to say, "Oh okay. Cool. Let's give you free shipping. Let's give free Canadian shipping. Let's give free New Zealand shipping."
How to Increase Amount of Sales with Kickstarter Marketing

Raphael Freedman

Then, we could email them back. "Hey, we have listened to your responses. Thank you so much. Here is what you asked for." That was able to increase the number of sales within a few emails.

Luis Congdon
One of the things that inspired you guys to do this Kickstarter marketing was to get a proof of concept.
One of the last calls that Kamala and I did, the guy was saying one of the biggest mistakes that entrepreneurs make is they go out and build the product, and do all the work with the product only to realize that the market doesn't want it.
Know If Your Market Wants Your Product with Kickstarter Marketing

Luis Congdon
To me, it sounds like you guys were using this Kickstarter marketing to see if your market even wants it.

Raphael Freedman

Yeah, I think it's correct.
With something like a book, you could invest a lot of money and a lot of copies. Obviously, the more copies you buy, the better it sounds because you're getting a better price on them, but it's very difficult to know  particularly if you never bought a book before like how many people want it, how exactly they're going to react.
This has forced us to just whatever the market says, how much they want the book, how many will be going to get it.
I think it's a much safer way for us to go about it and a more honest way for us to go about it rather than guessing on our own.

Luis Congdon
That's great.
As we're getting close to the wrap up here, what are some of the key takeaways? Some of the things that if you're going to go back and do this again, what are some of the things that maybe you would change or that you're happy you did?
Kickstarter Marketing – Offer Free Shipping

Lachlan Rowston

I think the first one would be to offer free shipping at the start. Shipping is quite expensive for this book. It's quite big, but I think that people see no value in shipping and it's such a common thing these days and so people expected.
Even if the price, the dollar figure at the end of the day was the same, when people know they're paying for shipping, they're not paying for anything valuable. Building a free shipping cost into the price I think is a much better idea because people go, "Okay, I'm paying for just the book, and they're going to ship it to me for free." So they're paying just for value. They're not paying for anything that they feel like they should already have.
Adding in free shipping to the rewards is going to be a big one.
Kickstarter Marketing – Don't Expect Too Much From Influencers

Lachlan Rowston

The second one is probably making sure that when we ask any of that to our influences, is not putting too much pressure on them to get it done and help us out or expect too much from them.
We have a lot of people in this book that have contributed as influences. We've reached out to them, and I think we've expected, "Oh hey, you're in it. You should promote it. Why wouldn't you? You're in it." Having that expectation is a bit unfair to them. They got their own time and their stuff they like to promote. Not expecting too much from an influencer is probably a big one as well.

Kamala Chambers
Those are great tips.
Is there something that you would recommend that the Thriving Launchers can go out and start today with their Kickstarter projects?
Test the Waters with Kickstarter Marketing

Raphael Freedman

If they're already doing a Kickstarter, I would say the biggest one would be testing the waters with a Kickstarter.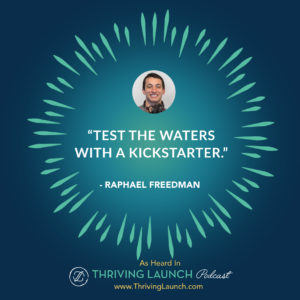 Raphael Freedman

Testing out like "Hey, is this something people are going to buy? Have there been similar Kickstarters on this? How did they go? How did those Kickstarters do so well, if they did?" Or "Why they didn't do well if they didn't?"
Inform Yourself About Kickstarter Marketing

Raphael Freedman

The last one we did was trying to group that into similar sort of products. I would do as much research as I can, and then I'll say test it out, speak to customers, send a  fake email to see if they'll buy the product and primarily just inform yourself as best as you can before you start.

Luis Congdon
There you have it, Thriving Launchers.
Kickstarter Marketing Takeaway

Luis Congdon
One of the things I've seen that works amazingly with doing kick starters is that it gives you an opportunity to test the market.
Another tip is if you have an opportunity or a possibility to connect your Kickstarter to some non-profits or something that benefits something beyond your mission, do it. That helps as well. I have some friends that have done that, and I've done very well.
Thriving Launchers, the main thing that we wanted you to get out of this is that you can do a Kickstarter marketing if you want to, and it's a fantastic way as both of these guys have said to test the water.
Guys, Thriving Launchers, keep thriving, and we'll see you in the next episode.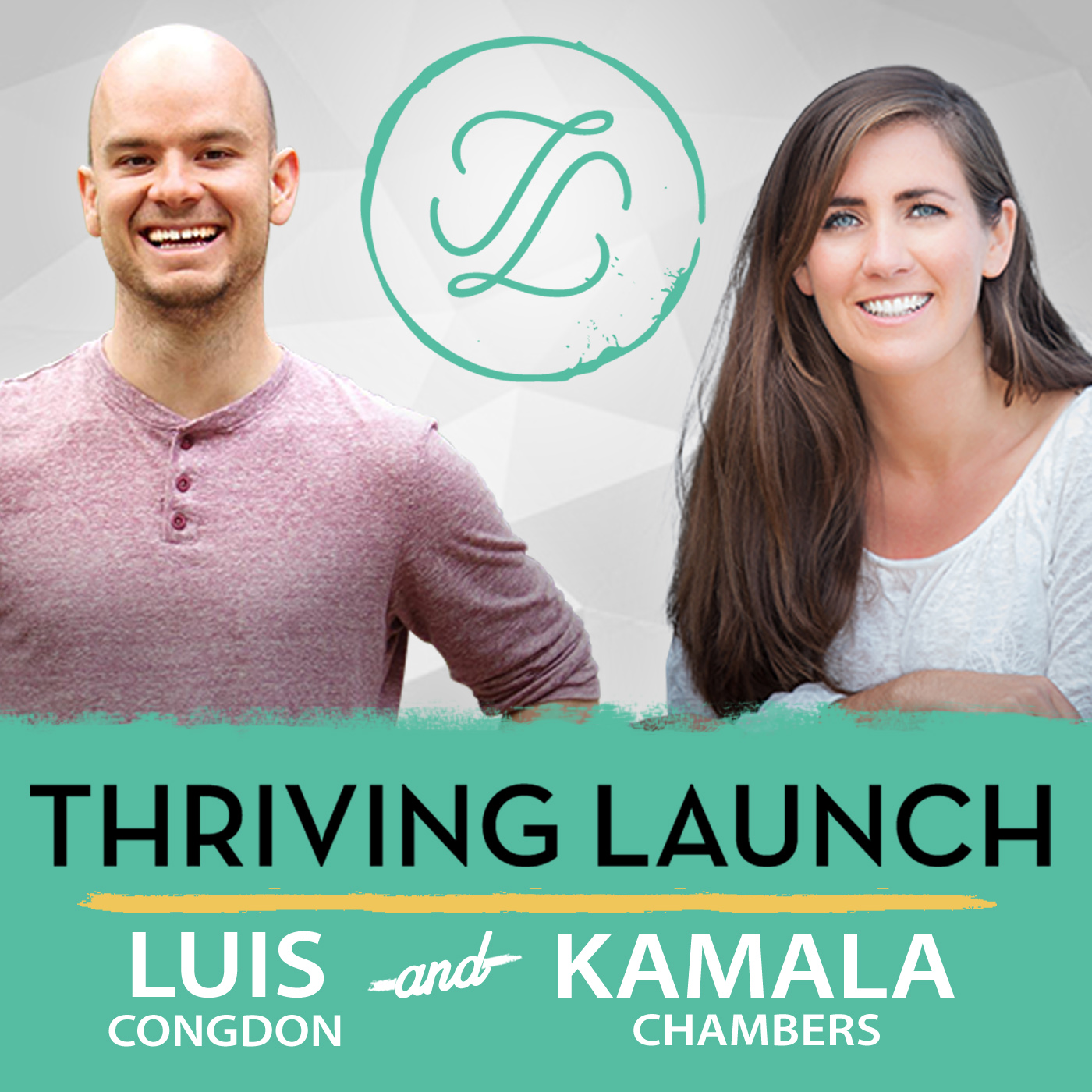 WHAT TO LISTEN TO NEXT
---