If former President Barack Obama sees value in podcasts – shouldn't you at least consider podcasts as part of your marketing too?
In my entrepreneurial journey, I've learned that if you want more clients – you need more exposure and podcasts are helping people like Shaq, Russell Brand, Tony Robbins, Lewis Howes, Gary V., Tim Ferris, and many others spread their name far and wide.
If podcasts weren't useful I am sure these guys wouldn't host their own shows, be on shows, and spend so much time with podcasts in general – but they do and it's because podcasts are a powerful medium to create a buzz, market, and attract clients.
By hosting your own show we have our own media channel that consistently attracts new clients, makes us instant authorities, and makes the content production a cinch. Then couple that with being a guest on other shows and you're constantly broadcasting our message, products, and services to a wide audience 24/7.
There are many reasons to have your own podcast, but today I'd like to focus on being a guest on a podcast. In this short article, I'd like to give you my top 3 resources for Getting Booked On Podcasts. G
If you're not sure what the value of being on podcasts is, let me give you show you a testimonial I got from one of the best copywriters and email marketers alive today – Ben Settle.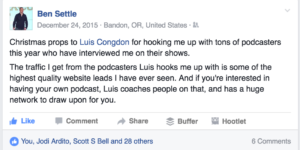 Ben is right – podcast listeners are some of the best leads you can have. According to research by Eddison Research Institute, podcast listeners make over $50,000 a year, are educated, and on average spend 20 minutes listening to a show. Along with that Pew Research Center has been showing a constant uptick and spike in podcast growth over the last ten years and shows a trend that will only keep growing. As far as quality leads and 'listen time' a podcast outperforms YouTube and all other platforms for quality exposure and leads.
By having your own show and being a guest on podcasts you can:
Attract more fans
Draw in more listeners and views to your website and content
Collect quality backlinks to your website and boost the SEO and ranking of your site.
Grow your network
Give you content that lives on forever (unlike social media that dies off very quickly)
But all those are just the small benefits – the biggest benefits of being a guest on podcasts is – The traffic you get, the name you build, and as Ben Settle says below: 'they are the highest quality leads I have ever seen'
Hopefully, I've helped convince you that hosting and being on podcasts will greatly help your business. If I have, I won't take anymore time trying to convince and instead let me present to you the BEST FREE RESOURCES FOR BEING A GUEST ON PODCASTS (I have no affiliation with these websites or resources, I share them simply because I think you'll find great value in them and I have only used the free version myself).
A few big wins that I've had since hosting my own podcast have been:
Was asked to be a writer for the major publication Good Men Project, Got featured in Huffington Post Live, Chicago Tribune Feature, was asked to speak at one of the largest conferences for MatchMakers, asked to speak at a private and upscale marketing conference titled 'Biz N' Brewz', had Dave Asprey ask to be on my show, invited by 19x Oprah guest Dr. Harville Hendrix to teach at his event, and that's just a few wins.
Here are my top three FREE resources for getting on podcasts. 
Podcast Guest.com – Free and very cool places that send out weekly opportunities of podcasts for you to be on.
Be A Guest and Find Guests For Radio or Podcasts (free service): Go to a website, fill in the info and you'll start getting leads for guests and to be a guest (FYI – this resource is free and doesn't always deliver a good guest…so you are warned). If you want solid guests to feel free to contact Luis Congdon (the creator of this sheet – he, on the other hand, isn't 100% free but has the best network).
Radio Show Guest – This is a fairly new service, I have yet to test it out. Since it was made by a good friend and someone who has always put out great content – I am sharing it here. Let me know how it goes.
Best of luck with getting on shows!
I look forward to hearing you as a guest on some amazing podcasts!