Podcast Ideas – Transcript
Luis Congdon:
Hey, I'm going to share in this video some podcast ideas on how to overcome the fear of starting a podcast because you're worried you don't have enough content.
I'm going to show you how to have so much content and make it, so you don't even have to create it and be the one that's generating the information.
I'm going to show you how easy it is to leverage someone else for content and use that as your own content.
Hello! My name is Luis Congdon from Thriving Launch. I host the Thriving Launch Podcast that's had over 250 amazing interviews including people like Jack Canfield, Marianne Williamson, Russell Brunson, JP Sears, and the list goes on and on.
Our podcast now does over five figures a month. It's incredibly awesome to travel the world and have a lifestyle that allows me to travel and go anywhere I want with just my laptop and my partner, Kamala Chambers, the co-host of Thriving Launch.
One of the things you might be worried about is "What am I going to say?" or "Am I going to have enough content to share with the world?"
This is a common thing with people when they start getting online, and they want to be seen.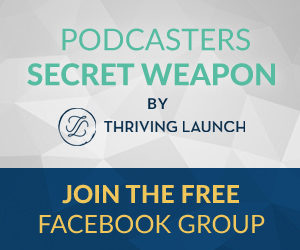 Podcast Ideas – It's Easy To Generate Content With A Podcast
We all know that content is king and that you need to have content to share, but with a podcast, maybe you're worried about what you're going to say. Don't worry. It's going to be a lot easier than you think because we're going to show you how to get amazing guests on your show and your guests are going to provide content.
When we had Marianne Williamson, Jack Canfield, JP Sears, and Russell Brunson on our podcast, we didn't have to create content. We just ask them questions.
We say, "Hey, Russell, how do you create a funnel?"  "Hey JP, how do you get a million viewers right away on YouTube? How are you using video?" or to a podcaster, "Hey, how do you create an awesome podcast? How do you get listens? How do you get views?"
Podcast Ideas – Have Guests On The Show To Generate Content
The thing is you do that by having guests on your show. They provide the content, and it's super easy.
I'm going to give you three podcast ideas for landing amazing interviews, and it's not very hard. It doesn't even matter if people know who you are, or you're famous or any of that.
If you're interested in podcasting and you're going to have a podcast, these steps work, and they're guaranteed to work. They've worked for me and for thousands of other podcasters we've helped.
Let me go into those three podcast ideas.
Podcast Ideas – Go To The Person's Website
Step one. Go to the person's website.
Find the person's website and go to their Contact page.
It doesn't matter if you're Marianne Williamson, or Jack Canfield, or Robert Kiyosaki, it doesn't matter. On the Contact page, everyone has some way you can reach out to them.
So go to the person's contact page. Write them a message.
Podcast Ideas – Write An Awesome Message
Step two. Write an awesome message.
One of the key things to writing a great message is ask the person to come on your show.
"Hey, my name is Luis. I'm the host of Thriving Launch, and I would love to have you on my podcast. You'd be a fantastic guest because –" And tell why you want them on your show and thank them.
Then, watch, the emails will start coming in.
Podcast Ideas – Write Messages To More People
Step three. Write lots of messages.
When you're first getting started, you can't expect that everyone's going to respond to you in one day, or two days, or three days. It might take a week or two or three weeks before someone responds.
One of my guests, Dr. Harville Hendrix, has been on Oprah 19x, more than anyone else. It took me almost six months before I got a response from his team.
While I was waiting for his response, I wrote a bunch of other emails. During that time, I started accruing more connections and a better network, and you can do the same thing.
Start writing messages, get out there, find the Contact page, write people, and then write more people. That's it. Those are the three podcast ideas to help you get started right now.
If you're interested in starting a podcast and crushing it with podcasting, make sure to join the Podcasters' Secret Weapon Facebook group. Click the link. Join us, and we'll see you there in the Facebook group.